Empowering People with Disabilities Through Participation in Adaptive Snowsports
CADS Calgary is a volunteer run charitable organization that makes skiing and snowboarding accessible to individuals with disabilities in Calgary and surrounding communities. Through the use of specialized equipment and teaching techniques, our volunteer instructors provide personalized lessons to individuals of all ages and skill-levels. Our goal is to provide the opportunity for everyone, regardless of ability to experience the joy and freedom of sliding on the snow - not just once, but for the rest of their lives.
Participate
Are you a person with a disability in the Calgary area who would like to take part in a fun and exhilarating snow sports? Our trained volunteers emphasize fun, progression and skill development for persons with a wide range of disabilities and skill levels. We run one program each year which consists of 8 two hour lessons which take place on Sunday evenings between January and March at Winsport Canadian Olympic Park.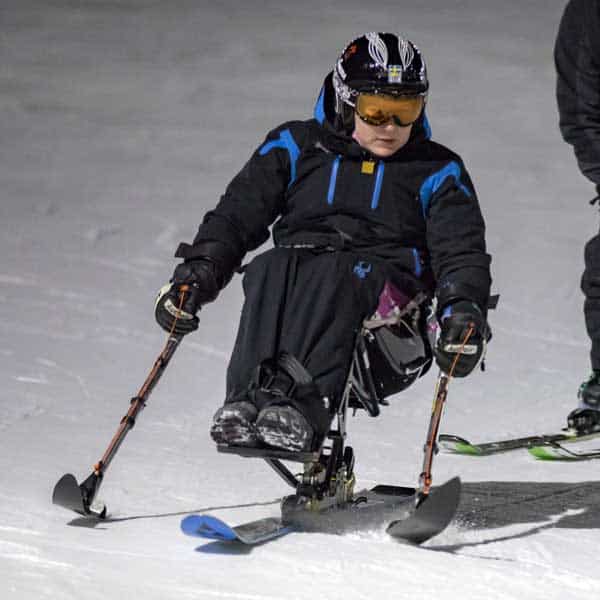 Volunteer
CADS Calgary relies on volunteers to make our valuable programming possible. There are many ways to help, so whether or not you ski or snowboard, there is a role for you! We invest in our volunteers by providing instructional training, ensuring that you're well prepared to assist. Personal development, camaraderie and fulfillment await those who volunteer for CADS Calgary!
Support
CADS Calgary is able to operate because of the generous contributions of our sponsors, partners and donors. By giving to CADS Calgary, you will truly be empowering people with disabilities to experience an incredible sport while developing personal strength and independence. We have a wide range of ways to contribute, including our annual Movement Gala. Our contributors, large and small, will enjoy the opportunity to make a difference in people's lives.